Ajit Gunewardene is the Founder/Chairman of Bluestone Capital Ltd. Bluestone is a Private Equity investment company investing in both startups and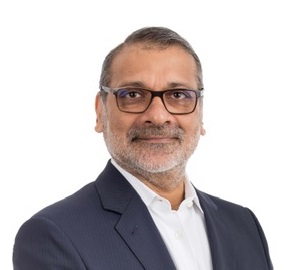 mature businesses. Among its investments are PickMe and Fintrex Finance Ltd. He is an entrepreneur and has a wide experiance in corporate business. He writes on the need for regulation of international digital companies and the need for a proper business framework allowing local and foreign digital companies to operate within a level playing field.
By Ajit Gunewardene
In my view, close on a third of Sri Lanka's economy and its profits are in danger of being sucked across our borders without us having any control over it, and this prediction is not very far in the future. How can this happen? Through international digital companies operating in our country, with the power to take foreign exchange beyond our shores, unless we intervene.
The process has already begun. It's been happening in the tourism industry for some time now. Digital booking companies who market our local hospitality business, may be taking as much as $ 400 million (Rs. 72 billion) abroad annually. These digital companies are necessary, because they drive traffic to Sri Lanka, something the industry is dependent on. Given that, my intention is not to speak out against those international players, but to draw attention to the lack of regulation which allows them to operate without levies, and the need for a proper business framework allowing local and foreign digital companies to operate within a level playing field.
Effects of an unregulated gig economy
This is no secret to the authorities since the Central Bank in its 2019 report clearly pointed to this same anomaly. The report referred to the gig economy and its workings, pointing to the difficulties in controlling these foreign companies, in the absence of local business registration. It highlighted that compiling Government statistics was also difficult, and the Government loses out on revenue from these foreign companies. In contrast, local platforms are under regulatory scrutiny and are liable for local taxes. The report pointed out that such differences in the applicability of regulation will not ensure a level playing field for local operators.
This lack of regulation also leads to other problems. Customer data is unprotected as the foreign entity cannot be held accountable and no legal action can be taken against these companies because arbitration in their case would be in their country of origin. Very few locals, signing up for such services would understand this aspect.
Data colonisation
About a year ago India's Reliance Industries Chairman and Managing Director Mukesh Ambani warned against data colonising saying India needed to have control over this area. He urged Prime Minister Narendra Modi to take steps to end increasing 'data colonisation' by global corporations, as Indians should own and control their own data. He referred to data as the oil in the new world order. What this means is that in today's context, protecting one's borders goes beyond physical factors, and proper data protection laws are necessary if we are to safeguard our wealth.
I agree that it is almost impossible for a small country like ours to live without interaction with foreign players, but what needs to be done is to give local companies in this sphere, a fighting chance. It is not necessary to eliminate competition to do this, but to ensure that non-domiciled international players don't have an advantage over them.
Tech giants being taken to task
The development of technology and the increase in online traffic and use of online platforms have helped tech companies across the world grow exponentially. Some to the extent where they were called out by their respective governments for becoming too powerful.
According to news reports, investigations began in the USA over a wide range of concerns, and as of August this year, the Justice Department, the Federal Trade Commission and a nationwide group of state attorneys general had all opened antitrust investigations of one or more of the four tech giants, Amazon, Apple, Facebook and Google. In fact, parallel inquiries into Alphabet Inc.'s Google by the Justice Department and states led by Texas, has the potential to become the biggest US antitrust case since the Justice Department and states sued Microsoft Corp. in 1998 for abusing its monopoly in computer-operating systems.
In November this year, China's bureau for regulating monopolies released draft rules that define, for the first time, what constitutes anti-competitive behaviour. According to a news report, the draft regulation by the State Administration for Market Regulation covers areas including pricing, payment methods, and use of data to target shoppers. The report says this is the most wide-sweeping attempt to regulate what Beijing sees as monopolistic behaviour by the country's tech giants that have grown significantly in the last few years.
Alibaba CEO Daniel Zhang had described plans by Chinese regulators to tighten restrictions on internet companies as 'timely and necessary.' Zhang's remarks came about a month after Ma publicly criticised Chinese regulators for stifling innovation and blasted the country's banks for having a 'pawn shop' mentality. Shortly after Ma's comments, Chinese regulators pulled the plug on the highly anticipated public offering of Ant Group, the financial technology company affiliated with Alibaba and controlled by Ma. China suspended Ant Group's $ 37 billion listing in early November, thwarting the world's largest stock market debut with just days to go in a dramatic blow to the financial technology firm founded by billionaire Jack Ma.
As the Deputy Attorney General Jeffrey Rosen of the Justice Department in the US says America would lose the next wave of innovation if they don't enforce proper antitrust laws soon. He says if that happens, Americans may never get to see the next Google.
Countries taking a stand
Some countries who are ahead of the game in holding these international players accountable are Italy, UK, Spain, as well as Malaysia and India. These countries have recognised the necessity in regulating the playing field, taking measures to implement or propose the Digital Services Tax (DST) in order to ensure that large digital companies – mostly ridesharing and peer-to-peer gig activities – pay adequate corporate taxes to host countries, from where they receive major revenue shares. The Organisation for Economic Co-operation and Development, (OECD) is another establishment working to reform international tax laws targeted at taxing large-scale digital companies, but has not yet arrived at a suitable agreement. Our only defence against preventing big corporates from becoming so fat that they could gobble up small economies like ours with impunity, is our own laws and regulations. I do not want to sound like an alarmist, but I am a realist, this is something that must be taken seriously or we would lose our grip.
More recently, the Competition and Markets Authority (CMA) of the UK took steps to set up a Digital Markets Unit (DMU) to act as a tech regulator. This was to ensure a level playing field for small tech companies that are compelled to share a platform with tech giants like Facebook and Google. This is done in order to bring equity into the arena as well as to create a fair market for consumers.
The newly established DMU will write and implement a new code of practice that will be enforced into the system by April 2021. While this code of practice is yet to be introduced, it will essentially be designed to not only break down restrictions that make it difficult to use competing platforms but also to give consumers more control over their data. It may also give people the option to decide whether they can be subjected to personalised advertising, which is heavily dependent on their personal social media algorithm. Once this code is implemented, the DMU will have the power to block and reverse decisions made by large tech companies. If they don't comply with its directives, it will also have the power to fine them.
Advertising on digital platforms
Another noteworthy change is taking place in our local advertising space, where a significant portion of advertising budgets are spent on digital platforms resulting in a significant forex outflow. This trend of monetising personal data via advertising and all of it offshore, if not dangerous, is unhealthy to say the least. That being the case, we need to look at ways to circulate these digital budgets within the country. It is not that we don't need to advertise through foreign channels but we should take the UK example, and find ways to do it in a way so that the local industry can benefit from it.
Though all this may sound a little technical and a subject for those who understand technology, that's not the case. This is business in the new digital economy. As digital adoption takes place at an exponential rate, digital services will dominate all segments of society and the economy. We must formulate a policy framework to ensure these services are localised. Almost every week, we see more and more countries focusing their attention on dealing with this reality and working towards preventing a hijacking of their economies. I believe that Sri Lanka should not delay in understanding this worldwide phenomenon and get on the bandwagon fast, if not there is much to lose.
This article was first published in the Daily FT (19.12.2020)
(Intro and full page photo by Karthikeyan Perumal from Pexels)