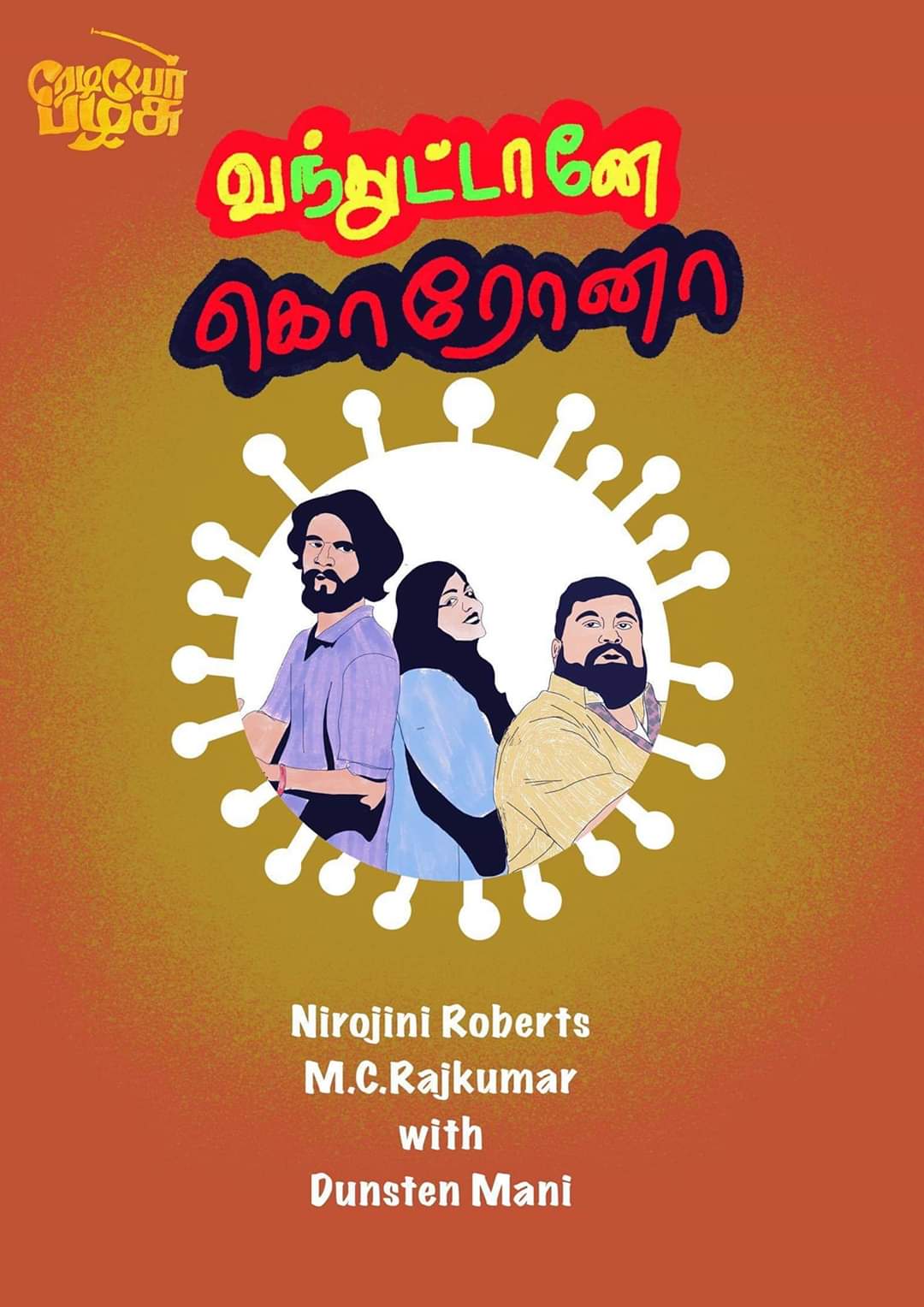 Dunstan Mani has a reason for choosing to communicate the all-important message of staying safe from the coronavirus through Baïla. This song is unique as it is in Tamil - and Baïla in this language is rare in Sri Lanka. Be that as it may, Mani is of the view that this mode would be the best to communicate to a very particular group of Colombo's population.
Although Dunstan Mani is a Canadian by choice, he is a Sri Lankan at heart, who has lived a better part of his life in the densely populated Kochchikade area, in the northern part of the city of Colombo. "This is a part of the city that is pulsating with life. People of my ethnic origin live in close quarters, and the whole area is highly congested. The community engagement is at close quarters. Whilst it was a great experience for me growing up in that environment, today when I look back, I think this is one of the most vulnerable areas one could find during this pandemic," he says.
Dunstan is concerned as he remembers most people in this area had to share even common amenities like lavatories and tap water, and this would force them to come in contact with each other daily, even during a lockdown. The people in Colombo 13 and other adjacent areas by far and large come from the less affluent quarter of the city and he says they have a mindset that needs different handling with giving them instructions on how to live safely in this situation. Hence his idea to communicate the message through a song, in a genre that is known to cut through several cultural barriers.
Dunstan composed the lyrics to his song, sitting in his home in Alberta, in Canada. He has done it with a lot of care, remembering the lifestyle of his youth and the cheek by jowl community living he was very much a part of.
"Between 5 in the evening and right up to 2 in the morning, the food stalls would stay open, in our areas, especially in Aluthkade, selling many delicacies. And people don't use forks and knives as in the west, they use their hands to eat and usually many share one large plate. Today, what we previously considered a bonhomie habit, could become a life-threatening action."
Mani's lyrics to this traditional song encompasses all the facts of life he experienced and the happy days he spent with his friends. He speaks of the variety of food that was available in the night time eateries from Chinese fried rice, Italian pasta, Burger pizza, and French fries to the more local flavours like Babath (ox tripe curry), kottu-roti and colourful drinks of Saruwath (Sherbert) and Falooda. Yet the song cautions people against that lifestyle, it tells them to consider it a thing of the past and urges them to stay at home and stay safe with a drink of ginger tea and home-cooked rice, instead of pursuing the usual delights, which have now become a death threat.
Mani reached across Sri Lanka to find the right singer and composer who could bring his song to life, and female artist Nirojini Robert and music composer M.C.Rajkumar was his choice. Robert is a singer well known for performing old Tamil songs and runs an internet radio station called 'Radio Pazhasu.' Rajkumar who is also a part of the radio station has previous experience in composing Tamil film music. Robert says her station was, in fact, experimenting with Tamil Baila and Mani's song has become very popular on Facebook with many people sharing it adding movie visuals of their choice to the song. Mani says both the singer and musician have done justice to his lyrics and everything fell perfectly into place. As the writer of the song and financier of the entire project, Mani holds the copyright but says the song is free for anyone to use as a tool to fight the virus and keep people and communities safe.
Here is the Soundcloud link to the Coronavirus Baila: https://soundcloud.com/radio-pazhasu/corona-baila
Lyrics and Translation of the Baila
ஆனா.. ஆவன்னா
வந்துட்டானே.. கொரோனா ..
வெளிய போகாத
புடிச்சிருவானே வீணா

Face ஐ காட்டாதே
மாஸ்கை போடாமா
முழுங்கிடுவானே
வீனா....

Aana aavanna
Corona has come,
Don't go out
Corona will catch you
Don't show your face without a mask
It will kill you!

சைனீஸ் பிரைட் ரய்ஸ்
இத்தாலி பாஸ்டா
பர்கர், பீட்சா ..
பிரன்ச் ப்ரைஸ்
திண்ணவனையும்
புதுக்கடை சந்தியிலே
குடல் பாபத்
கொத்துரொட்டி
சர்வத்
பாலூடா
விழுங்கினவனையும்
வீட்டு சோறு திங்க
வைக்கும் கொரோனா

இஞ்சி டீ குடிச்சு
வாழ வைக்கும் நனனா

The one who eats
Chinese fried rice, Italy pasta
Burger pizza, french fries
And the ones who enjoyed
Babath and kottu roti
Saruwath, Falooda
At puthukadai junction
Will have to eat
Homemade rice now.
You have to live with ginger plain tea

ஆனா.. ஆவன்னா
வந்துட்டானே.. கொரோனா ..
வெளிய போவ.. வானா
புடிச்சிருவான் கொரோனா

Face ஐ காட்டாதே
மாஸ்கை போடாமா
முழுங்கிடுவானே
வீனா.

Aana aavanna
Corona has come,
Don't go out
Corona will catch you
Don't show your face without a mask
It will kill you

ஜாதி மதம் இனவாதம்
பார்க்கமாட்டான்
ஏழை பணக்காரன்
அதுவும் பார்க்க மாட்டான்

பாசமா வந்துடுவான்
மோசமா செஞ்சிடுவான்
அவன் தான்டா
கொரோனா ..

சண்டியனுக்கு
சண்டியன் தாண்டா
இவனை நீயும் மிஞ்சி பாரூடா
வைரஸ்க்கே ' கிங்கு" டா
நோயை கொடுப்பதில
சூப்பர் ஸ்டாருடா
சிம்பிளாக எண்ணாதே
சாம்பலாகி போகாதே..
டிஸ்டன்ஸ் பார்க்காம
டிஸ்டர்ப் பண்ணாதே

Corona will not have
Differences with
Caste, class, religions
No difference between
Rich and poor

He will come with love
And kill you slowly
He is corona

He is so powerful
You can't beat him
He is a superstar in
spreading the disease

Don't take it simple
And become ash
Don't disturb without
Maintaining distance

ஆனா.. ஆவன்னா
வந்துட்டானே.. கொரோனா ..
வெளிய போகாதா
புடிச்சுவரான் கொரோனா..
Face ஐ காட்டாதே
மாஸ்கை போடாமா
முழுங்கிடுவானே
வீணா

Aana aavanna
Corona has come,
Don't go out
Corona will catch you
Don't show your face without a mask
It will kill you
Other links
Link to a well known Sinhala baila - Sumihiri Pane