Book Review
The Heart's and Minds War by L.C. Perera
By Tyron Devotta
Brigadier (Rtd) L.C. Perera's book 'Facing Our Own Citizens In Conflict Situations', on the 1987 insurrection which went on until 1989, opens a rear window in understanding the Sri Lanka army's fight with the southern insurgents, almost 30 years ago.
Apart from the various insights the author gives to this war, which were hitherto unknown, the book also provides some valuable lessons in conflict resolution and a way around using the bullet. This would be the first of several books he intends writing, all from the point of fighting battles and winning wars in a humane manner. Setting aside the mushiness of non aggressive conflict resolution from a soldier's point of view, Perera gives the reader a step-by-step solution in achieving targets, gaining ground and holding it.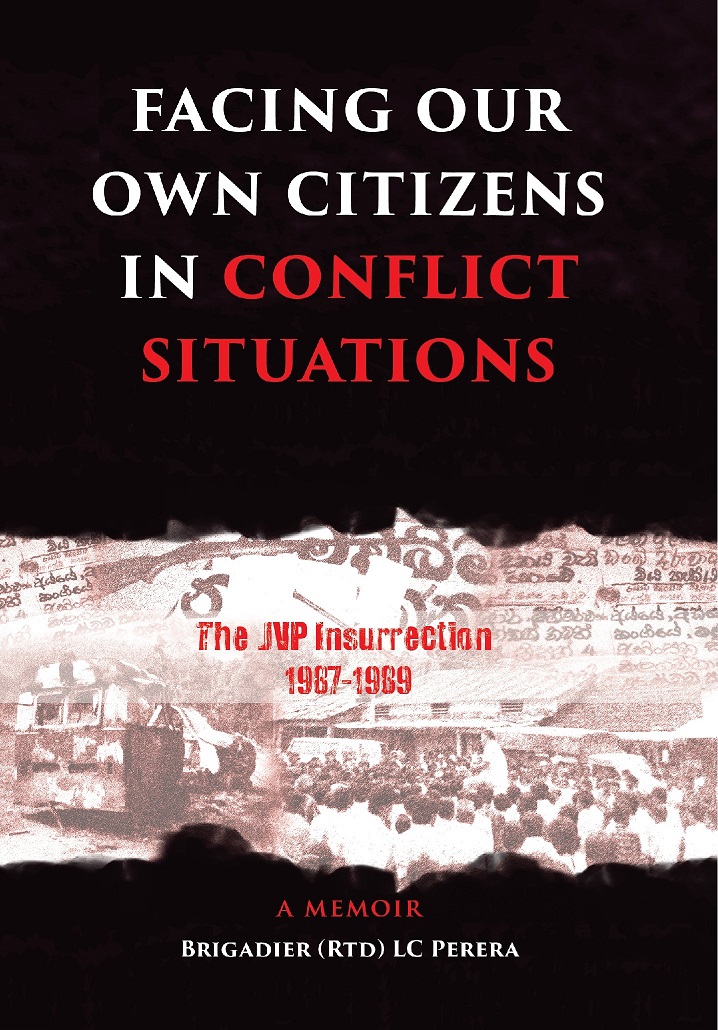 The book is an easy read, with many anecdotal interjections that lightens the rather serious subject matter. In reality, it is a handbook for the military, on how to win the hearts and minds of adversaries. It is clear from Perera's narrative that he is a good storyteller, as well as being a motivational speaker. Turning the pages of his book, one can read about his engagement with the civilian population in the south of Sri Lanka while he operated in the field. The book takes us through his calm interactions with sections of a disgruntled society who were willing to take up a gun to settle an argument. In those times, he was a junior officer with a knack for finding solutions to dealing with people who had problems. This was not only in dealings with the civilian population but also when working with senior and junior officials in the army.
Perera writes about advising two Sri Lankan presidents and working with Army Generals. The candid accounts of his encounters give us insights as to what was going on in the minds of those in charge. Some of his revelations will break down old perceptions we had of these people who we may have perceived in a somewhat negative light. Through the pages, we can actually see how everyone during that time was caught up in a vicious circle of violence even if it was not really their intention.
The author does not claim to have all the answers, nor does he pontificate on so-called counter terrorism. Instead, he hopes his book will help the armed forces to see internal conflicts and their resolution in a different light. Beyond the original intentions of this book, one can also see the structure and lessons for crisis and issues management for the corporate sector.
LC Perera is a firm believer of the theory, 'one must first listen carefully and then choose one's words carefully,' when dealing with contentious issues. He says through this initial step, one can develop empathy.
Writing contemporary history is a daunting task, as one's critiques may spring out of the woodwork faster. There would be many who would have lived during those times and may have their own opinion on what happened and disagree with the writer's stance. In fact, contemporary historians are like journalists rather than historians, in that objectivity is primary but difficult to maintain because writing about one's own experience becomes subjective. Perera has achieved this balance to a great extent, and his book is a recommended read. Taking on the subject about 30 years later also helps, since the narrative has had enough time to simmer down and settle. He has taken time to think about it and structured his story well.
Many soldiers have written about war in the recent past, and given us exciting insights into battles and campaigns. This book though, takes a different path, as it is more about how an army can prevent one. L.C. Perera is a pacifist in a soldier's uniform. An oxymoron? Yes, there is one question one might ask; aren't all his thoughts and ideas a little naïve from a real world perspective? Can one really change a soldier into a peacemaker... doesn't it go against the grain? This is a good reason to read the book, because the answers to those questions lie somewhere between its pages, best left for the curious reader to discover!