Visiting the land of my ancestors had always been one of my dreams since my school days. Finally, in April 2018, I got the opportunity to tick that off my bucket list after an unforgettable trip to the South Indian coastline stretching from Tuticorin (also known as Thoothukudi) to Manapad. This area was a part of the Coromandel coast and was inhabited by my ancestors (the Paravars) for thousands of years. — Cecil Roche
From Chennai to Tuticorin
My cousin Marius Gomez had business connections in Tuticorin and was kind enough to arrange a hotel, a car and a local guide to take me around. I had to fly into Chennai and take a domestic flight from Chennai to Tuticorin on a small propeller-driven aircraft operated by Spicejet (Photo1). I was served by lovely hostesses who made me realize that it is not only in Bombay that the "ladies are nice and so full of spice". After 90 minutes of being pampered, I landed at Tuticorin airport. The quaint little airport consisted of a short airstrip and a small building with just enough space for a waiting area and a luggage conveyor belt (Photo 2). My driver was awaiting my arrival and whisked me off to Sathya Park & Resorts Hotel, which was a short 20-minute drive from the airport. (https://www.sathyaresorts.com/).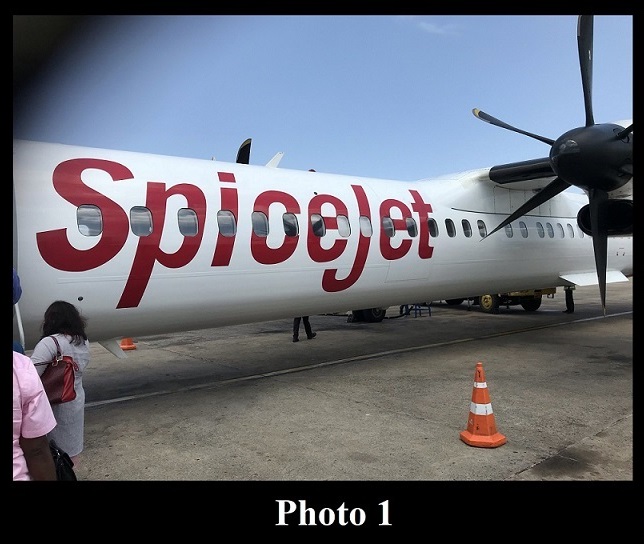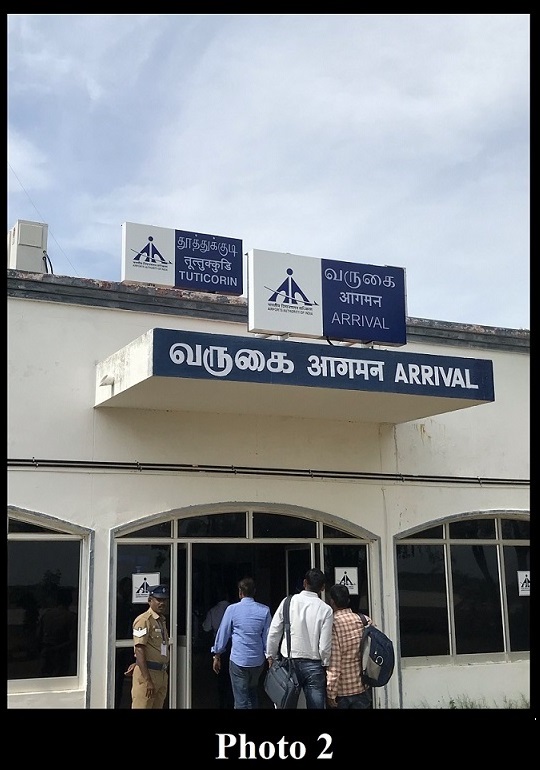 Land of the Pearl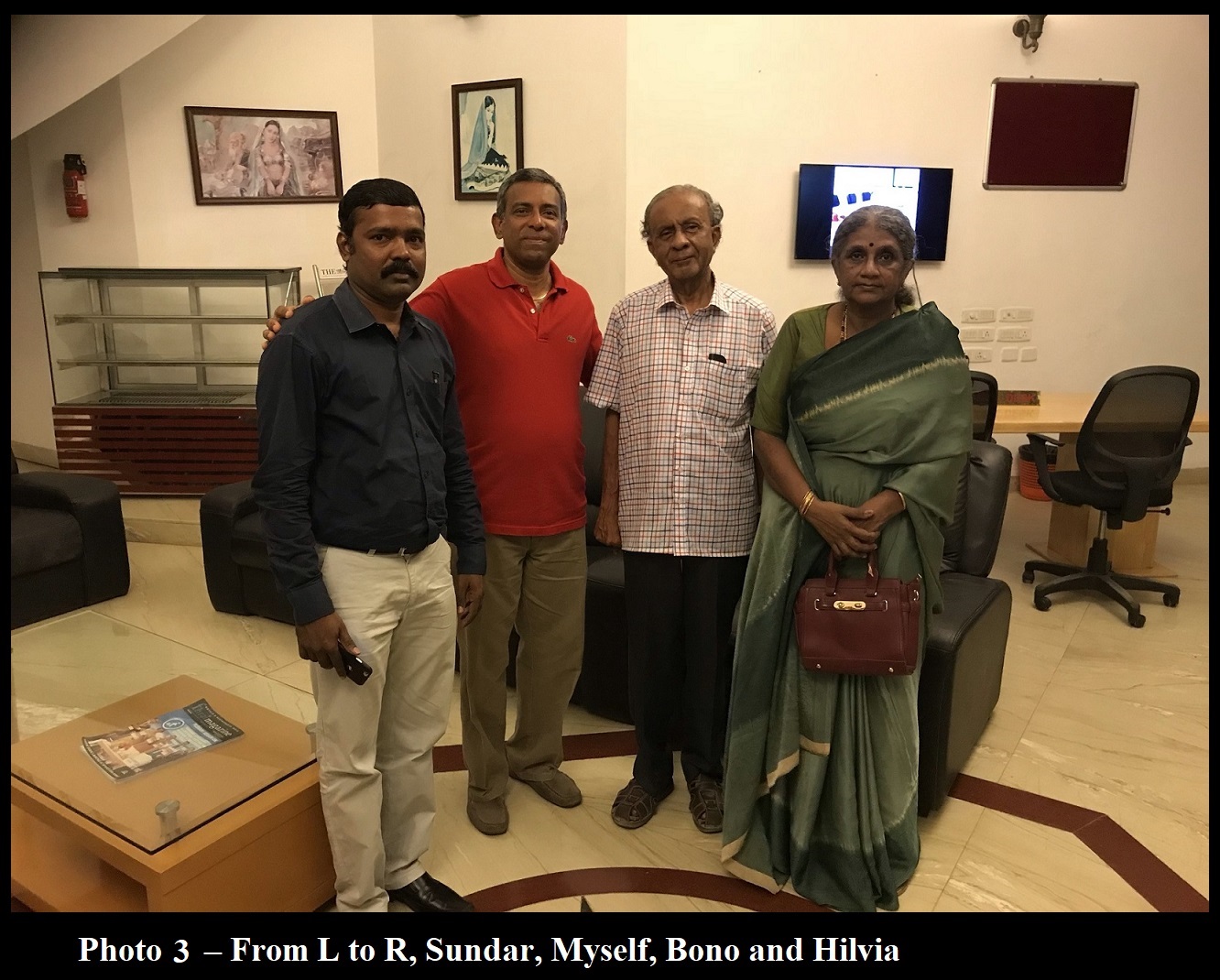 s
After a good night's sleep and a hearty Indian buffet breakfast, my guide Sundar arrived at the hotel. To my surprise, he had brought along two others, a man called Bono Roche and his wife Hilvia. Sundar introduced them to me as distant relatives who had received news of my arrival and were very keen to share their knowledge with me (Photo3 – From L to R, Sundar, Myself, Bono and Hilvia). Bono and Hilvia turned out to be even more knowledgeable than Sundar. I learnt that the Portuguese called the area where the Paravars lived "Costa da Pescaria" or "Land of the Pearls". This area stretched from Tuticorin to Manapad and beyond. Slowly sipping his cup of tea, Bono explained that from around the year 1500, many of the Paravars were pearl fishermen and pearl traders, diving for pearls to the bottom of the ocean where they could stay for hours.
Conversion
My ancestors were first converted to Christianity around the year 1542 by a Spanish missionary by the name of Francis Xavier who had taken a vow of poverty and chastity. This dedicated saint lived by himself in a small cave beside the sea and tirelessly preached the gospel to my ancestors.
Manapad
The story sounded so fascinating that we decided to do the 90-minute drive from Tuticorin to Manapad to visit the cave of St Francis Xavier. The Catholic church had carefully maintained the cave and its surroundings (Video1/Photo4). The atmosphere around the cave was surreal. I could still sense his saintly anointing as I stood at the entrance of the cave and gazed out to the open sea in awe. After spending the day walking along the beach (Photo 5) and visiting the churches of Manapad, we drove back to Tuticorin in time for dinner at the hotel.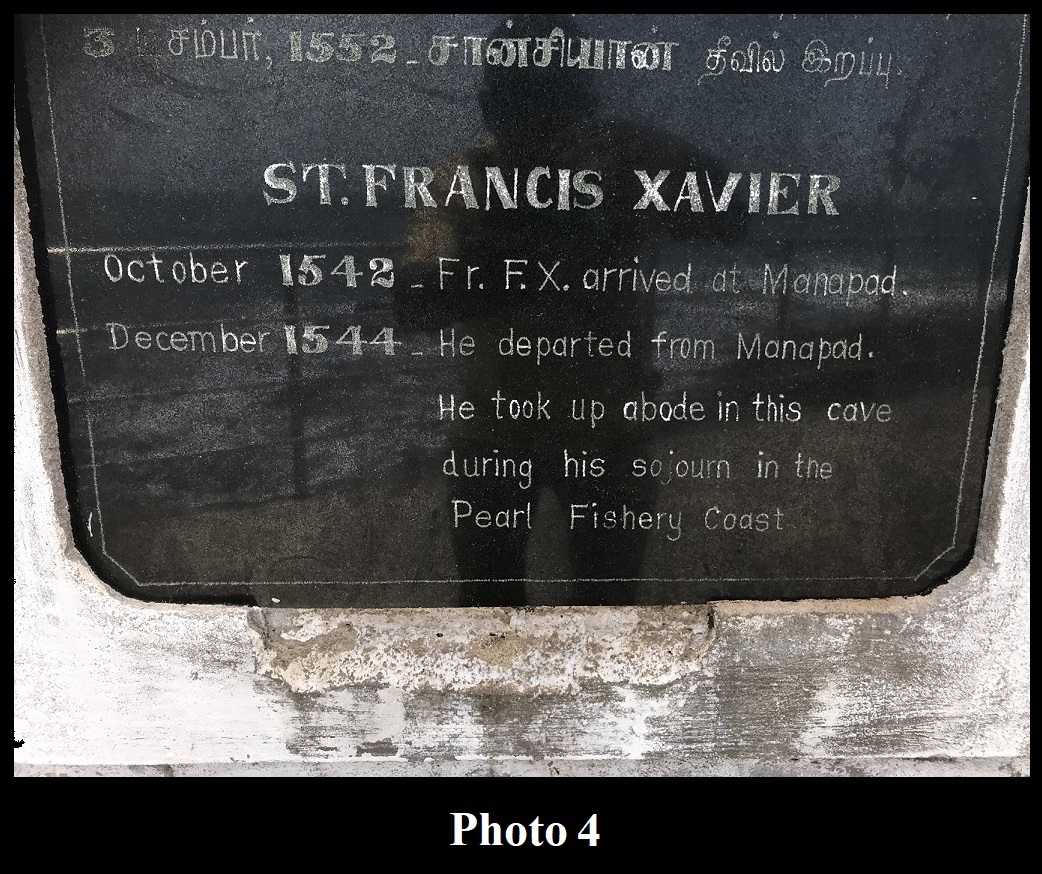 Our Lady of Snows
The next morning, Bono and Hilvia came to my hotel again and we decided to explore Tuticorin town. Since my entire community had embraced Roman Catholicism, much of their activities had been centred around the iconic "Church of Our Lady of Snows" for more than 300 years. Built in 1713, the church was eventually raised to the status of Basilica in 1982 by Pope John Paul II (Photo6). Bono and Hilvia then took me to the areas of Tuticorin where my ancestors lived.
The Roche ancestry
Our first stop was Roche Colony Road (Photo7) and then Roche Park, which is a recreation area for families built by one of my ancestors (Photo8/Photo9). We strolled past an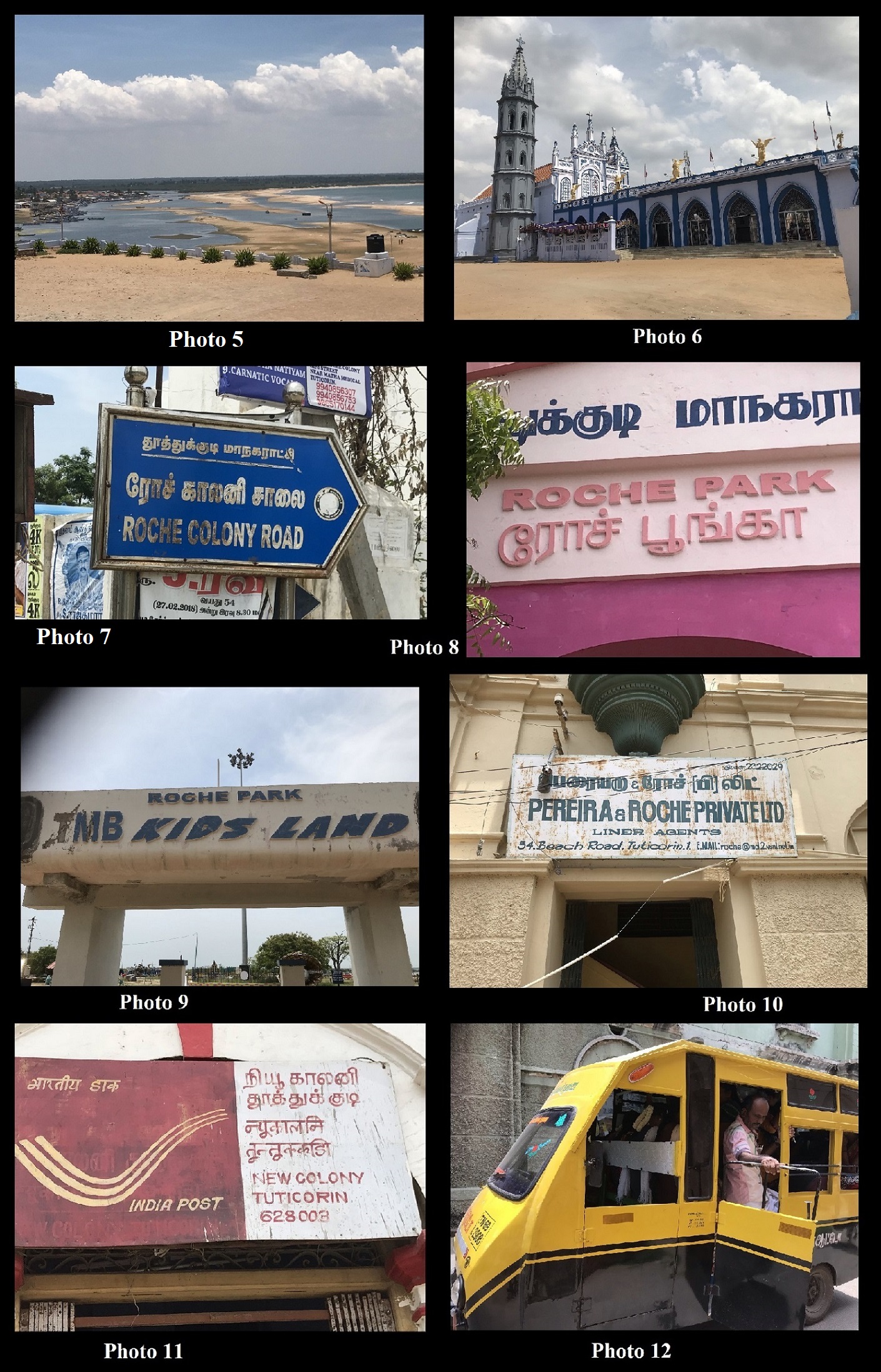 existing Roche business (Photo10), and we then stopped at the Tuticorin Post Office, which was then managed by my great-grandfather (my father's mother's father). I was amazed that the same old post office, although dilapidated, was still in existence and still in use after all those years (Photo11). Bono and Hilvia left me in Tuticorin town and headed back home while I spent the rest of the afternoon sitting on a roadside bench sipping a cup of coffee and observing the local folk heading back home after work. The Tuticorin public transport system consisted of quaint little yellow minibuses (Photo12), which were never overly crowded and seemed to always have enough space for everyone.
A wise old man
The next day was my last day in Tuticorin. Bono and Hilvia came by again and whisked me off to visit the family of a wise old relative who seemed to have a depth of knowledge on the history of the Paravars going back several thousands of years. The wise old man sat in his armchair and took me back about three thousand years to a time when the stretch of coastland from Poovar to Tuticorin (Photo 13) was well known throughout the world for its gold. He recalled stories told by his grandfather about ancient times when the area was known as Parvaim. "The ancient Paravars were boat owners and gold traders who exported their gold to kingdoms throughout the ancient world", he said.
Biblical connection
My own research showed that Parvaim was indeed renowned for its gold. In fact, it was so well known that King Solomon imported gold from Parvaim to build his renowned temple in ancient Israel. This is mentioned in the Holy Bible in 2 Chronicles 3:6. Although there is some debate among scholars regarding the exact location of Parvaim, a lot of the research points to Poovar as being the nearest natural sea port to Parvaim, and the most likely port at which the gold was loaded on to King Solomon's fleet of ships.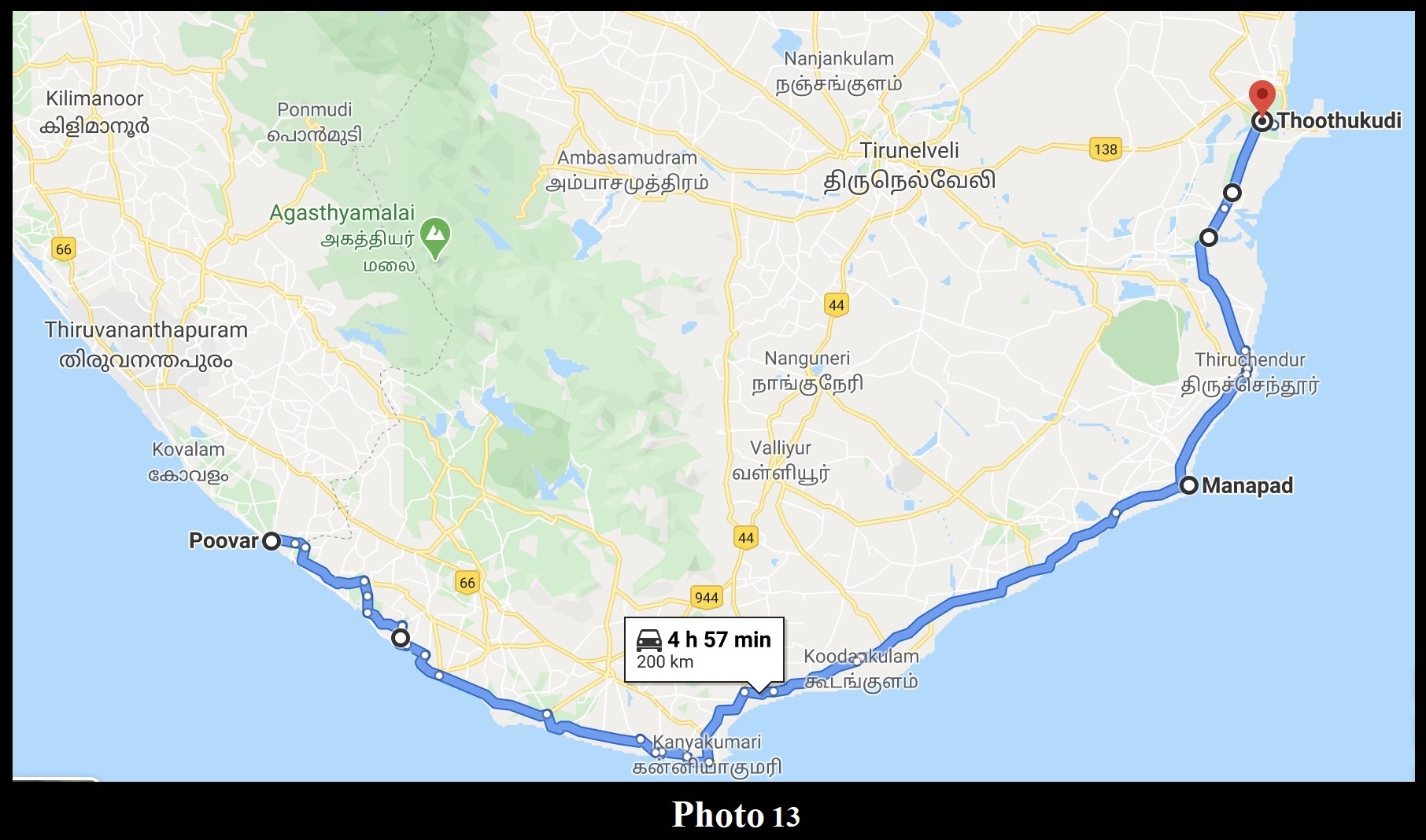 That evening, I bade farewell to my new friends and the driver took me to the airport. While waiting for my Spicejet flight, I grappled with all that I had seen and heard over my few days in the exotic land of my ancestors. Paravar… Parvaim… were the Paravars really the original inhabitants of Parvaim? If so, did my ancestors really make such a significant contribution to ancient biblical history?
Researching the Paravars
As I was early for my flight, I pulled out my laptop, connected to WiFi and googled while simultaneously cross-checking the information with the heavy pile of historical books and documents which I had faithfully carried with me in my briefcase. All the evidence I gathered seemed to point to a clear connection between the Paravars and Parvaim. Edgar Thurston, in his 1909 publication "Castes and Tribes of Southern India" quotes from an ancient and reliable document of church history, the Historia Ecclesiastica, which states that the Paravars were indeed the inhabitants of Parvaim. As I finally boarded the plane and took off from Tuticorin airport, I settled down in my seat and sipped my coffee with a renewed sense of pride in being a Paravar.
Cecil Roche was born in Colombo, Sri Lanka. After being a student at St Peter's College Colombo, he proceeded to the United Kingdom where he obtain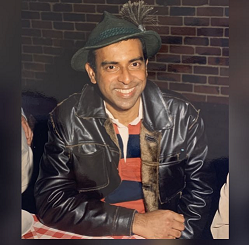 ed a Bachelor's Degree in Computer Engineering from the University of Essex, and a Master's Degree in Education from the University of Sheffield. He then spent 20 years in Singapore where he worked as a Senior Lecturer and a Section Head of Software Engineering at the Singapore Polytechnic. He then moved to Melbourne, Australia where he taught Information Technology and Computer Networks at RMIT University. Cecil and his Singaporean wife Julie currently live in Melbourne. Their son is a medical doctor in Singapore and their daughter has her own business in Melbourne. Julie runs a travel business and Cecil runs his own investment company while travelling often between Australia, Singapore and Sri Lanka.
Related article: The Bharatha Sing-A-Long