During the pandemic Joanna Jayawardena found a silver lining in the dark cloud. She is a maker of gifts, and the success to her story is the detail that goes into personalising the gift boxes she creates. The care taken in filling the unique need of personalised gift giving is the magic she weaves around each of her beautifully packaged boxes.
One can leave all their gift troubles at her door, by just picking up the phone and talking to her or connecting with her on social media. She would solve it, picking the perfect gift and sending it out to wherever on the island or the world; neatly, safely and creatively packed. In sourcing her material, she places great emphasis on Sri Lankan products and her suppliers can be from Ahungalla, Trincomalee or even as far as Mullaitivu. "It's not that I cannot source something from abroad, but I prefer to promote local products because we have so many high quality great items which anyone would like to receive. So even if there is a box with things from outside Sri Lanka, I would always throw in a local product, even if it has to be complimentary," says Joanna Jayawardena, founder CEO of Thagi Gift Boxes.
Niche market
The creatively packed personalised gift boxes Thagi offers, caters to a niche market of corporates or individuals who wish to give personalised gifts. The business that has reached the one year mark successfully, is not just limited to Sri Lanka, but she has also started packaging boxes to the UK, which are sold under another brand.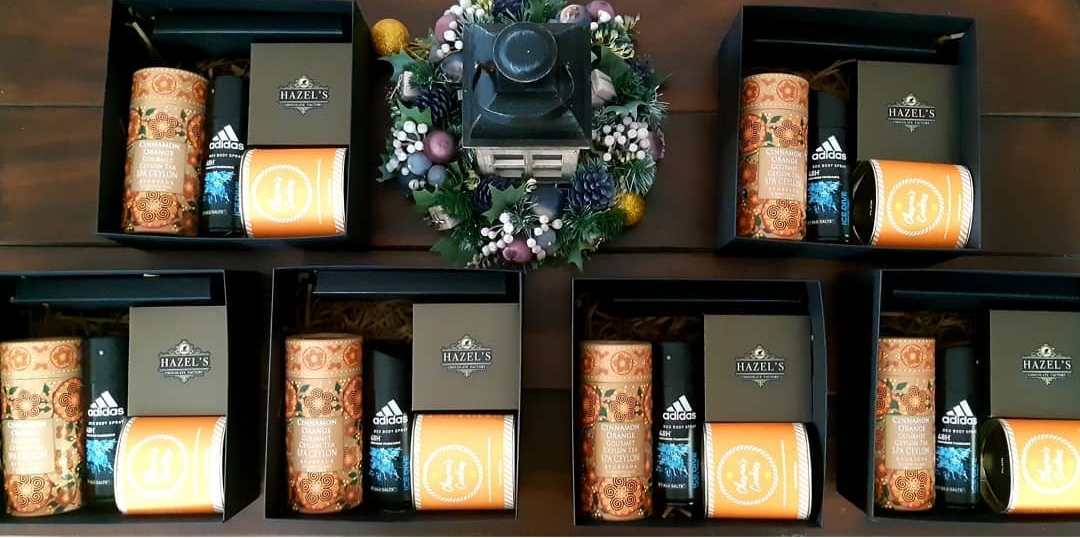 'Thagi' (meaning gifts in Sinhala), has managed to successfully run even with the severe foreign exchange crunch Sri Lanka is facing and the resulting shutdown on imports, because of Joanna's emphasis on local products and the detail and care she gives to her customers' needs. "Sri Lankan entrepreneurs produce beautiful, high quality and affordable products that are novel as opposed to going to a branded store and buying it. So in packaging and showcasing their products we actually open doors for them — offering support, interconnectivity and above all proudly promoting our very own products" says Joanna, who believes this is the perfect climate to add value to local wares.
She says it took a year of research before she decided to begin the new business. "Thagi was carefully thought out and planned. We took into account the spending patterns of Sri Lankan corporates and individuals, likes and dislikes and what competitors had to offer. Sourcing and suppliers was another area we looked at, that is essential for our business."
Childhood experience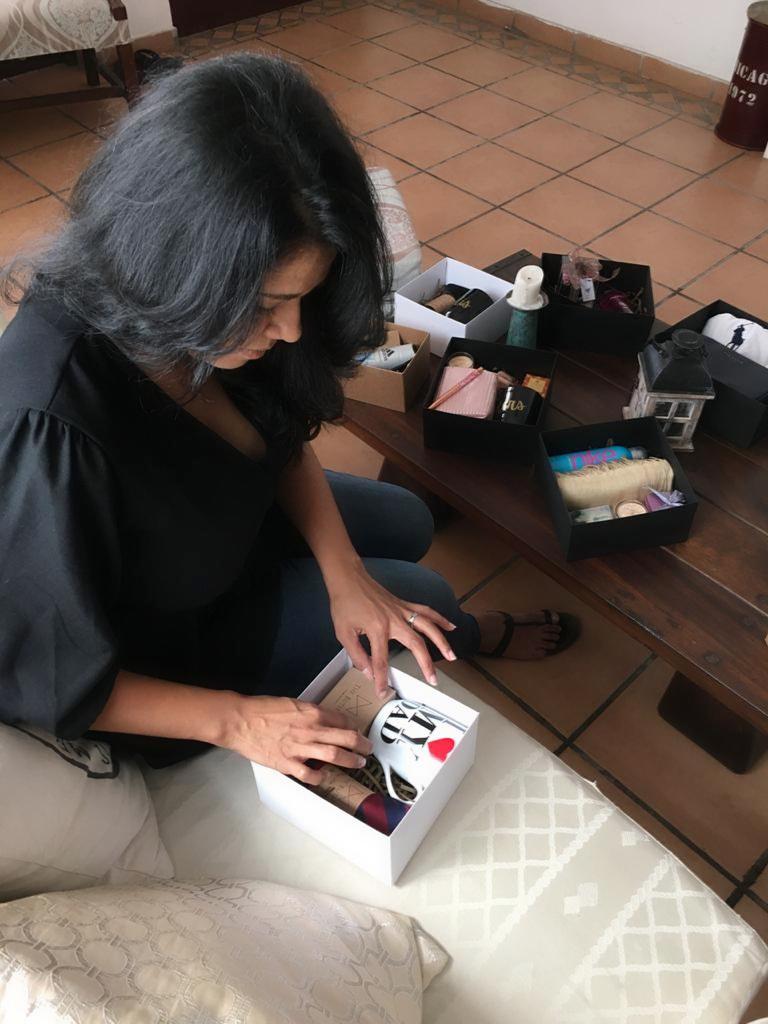 Joanna says creating personalised gifts was a fun part of her childhood — something her mother taught her. Too often people are stuck in jobs they do not like, and that is so limiting. "Creating personalized gifts is something my mom instilled in me. She always said simply buying a gift for someone did not have the same degree of thought behind it. This is something I always remembered and what made me want to do it on a larger scale. While some may have the desire to do it, I know they do not have the time to run to multiple locations looking for the right items, so I thought why not provide them with specialised gift boxes which they can give to their clients, friends and loved ones."
Convenience
She says in the rapidly changing Sri Lankan market people look for convenience and that is what she has done with 'Thagi,' giving her customers the opportunity to gift something special without the hassle of sourcing and doing it themselves. "We customize gift boxes from personal to corporate; for any occasion be it a birthday, anniversary, a special occasion like Christmas, Valentines Day or even a simple gift for parents or a loved one. We offer a list of items the customer can choose from or they can specify their brands and we will tell them about availability. Once that's done we cost box and if the customer approves we get the required date and delivery location, and process the order within 2 to 3 working days, depending on the level of customization needed. We always offer a complimentary greeting card for every box we package and deliver through our personal drivers."
Social media
As a modern entrepreneur, Johanna operates entirely online. She has no physical store space and social media is her go to. Apart from platforms she uses like FB, Insta and Whatsapp, she has partnered with well known online marketing site Takas.lk, who sell her pre-made and customizable products. She says Thagi Gift Boxes will soon be available at Softlogic Glomark well in time for Valentine's Day, which falls in February.
Good relationships are key
Joanna says, for any entrepreneur who is starting out in a product or service related business, networking is key. She believes that people need to know you and your business, and maintaining good relations with whoever you work, whether they are suppliers, distributors or customers is very important.
"I think the most important thing is to give everyone the time of day. The reason they would come to you, message you or indulge your product is because they like it and you should be courteous enough to respond to them. If you can, can't or even if someone is snarky or rude you should always be kind." Johanna says this sentiment helped her from the planning stages of her business helping her to source high quality and affordable items in the local market as well as helping her to conduct business and deliver through pandemic times.
She adds that while she encourages clients to fill their gift boxes with local products she does not discourage those who desire foreign products such as fragrances, which she also sources from the legitimate local suppliers. Another special aspect of her business is that she caters to people with different budgets and a low budget is no obstacle.
The Range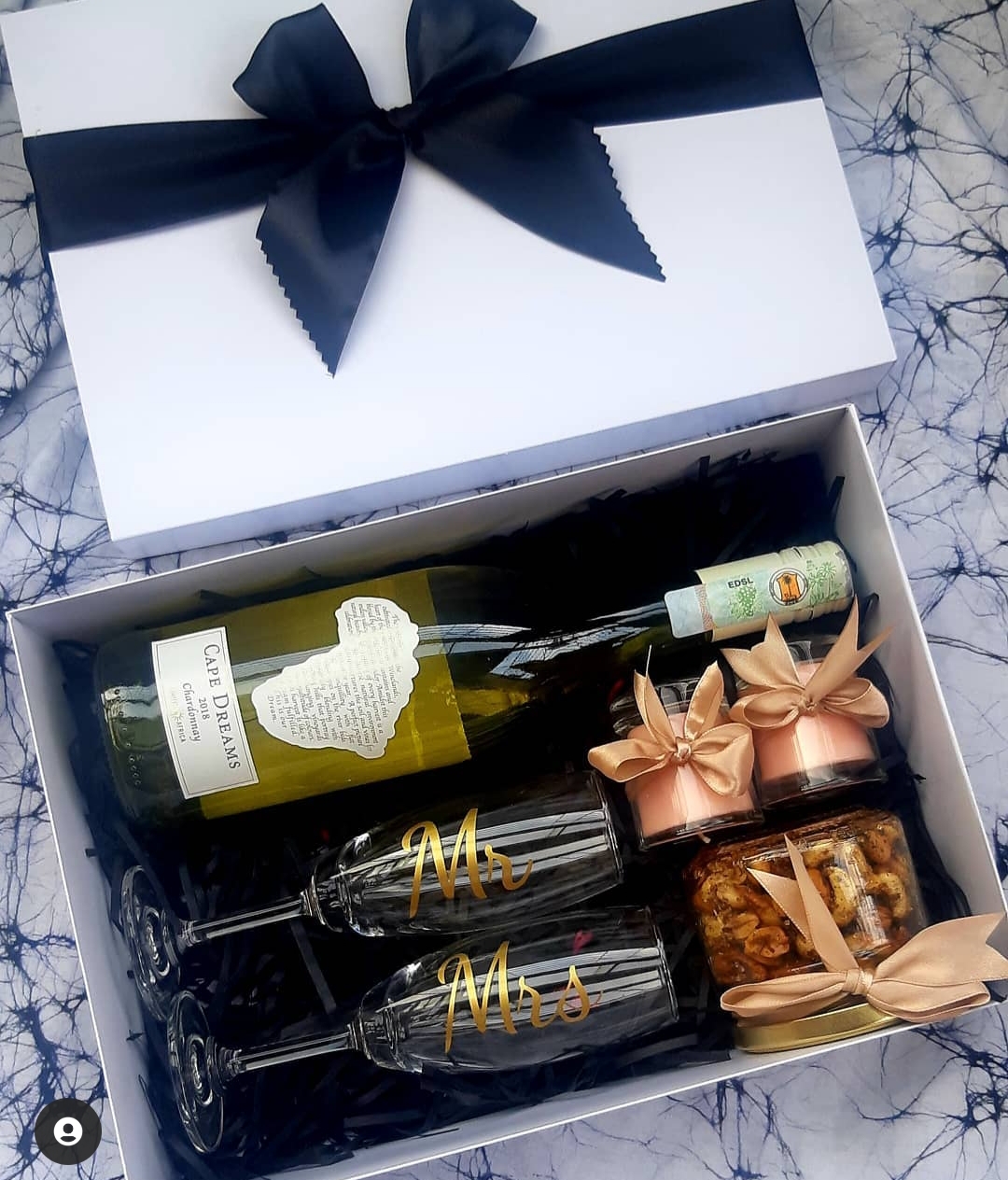 "We use a broad range of products in our gift boxes. It can be a self care pack, scented candles, artisan chocolates or cookies and we have local suppliers for all of these things. It can also be someone who is gifting a boyfriend or husband who might be a sports enthusiast or perhaps gyms and works out. So we customise the box with gift items suited for that, but we are always in touch with the gift giver so that we do not lose the sentiment of the giver in personalising the gift. For example, a customer wanted something for a musician and artist who had recently started working out at a gym. So we asked the customer a few pertinent questions like hobbies and likes etc. In line with that we are doing a customized sports bottle, along with a 32 piece charcoal art piece for this customer. The overall point is helping customers to give the most thoughtful desirable gift and if they do not have an idea what that might be, we find out enough details to help them choose and give that personal touch."
2021, where do you see yourself?
About the future, Joanna says the most important thing one needs to succeed is belief and a plan to take that belief forward. "On a very personal note I believe that whatever situation you're in, there'll be highs and lows. It's all based on perception. If you are going to take the low road and say, 'oh gosh it's a pandemic, my business is going to fail' then yes it will fail but if you visualize that you're going to have a successful 2021, that is a solid mental foundation you can build on to get results."
Joanna's motto has worked because she has started the new year with a positive surge in orders. She says the fact that people have become more comfortable making online orders during the last year has helped, and sees further growth for online marketing, given its more cost time effective nature.