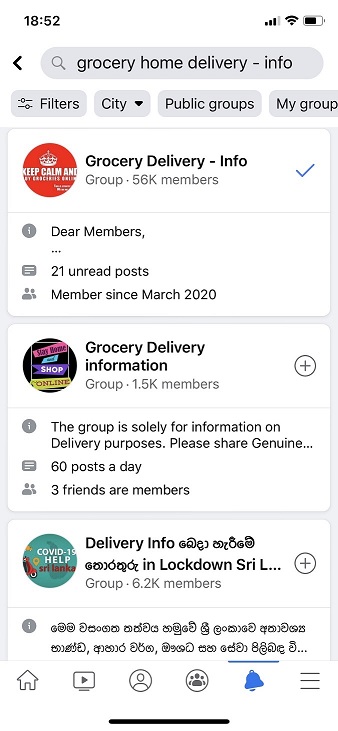 What was initially a panic buy from supermarkets to survive the COVID-19 lockdown in Colombo, has now changed into a fairly streamlined purchase pattern for households, with online delivery taking up a strong position in servicing the city's urban community.
As several delivery services began offering their services to supply a variety of items, ad hoc consumer organisations on social media, initially created to provide information, have now taken on the responsibility of creating transparency and a level playing field.
Facebook
One such page on Facebook 'Grocery Delivery - Info' has 56,110 members and is growing. There are several similar groups 'Home Deliveries,' 'Home Delivery Service,' 'Colombo Grocery Delivery Services,' Grocery Delivery Information, 'Colombo Grocery and Food Delivery Info,' and more with approx. 1,500 to 11,000 connections and growing. What all these pages have in common is that they are rooting out sham vendors and insisting on suppliers keeping to a standard if they are to receive recommendations from page administrators. With such high levels of self-regulation, these online-consumer pages have become the 'go-to' place and a very useful tool for consumers seeking to buy not just essentials but just about everything the city dweller needs to make life in lockdown bearable.
Supermarkets
Initially, with heavy dependence on supermarkets, there was an uproar on social media when people could not get an order either online or via telephone. But these things have mostly got sorted out by now, with many other suppliers joining the delivery supply chain and offering more variety than supermarkets can during this time.
Keells and Cargills have to be given the credit for being two of our mainline supermarkets who have attempted to deliver essentials to everyone during very trying times. They remain 'value for money' and though it was initially not possible, now they have extended their services to custom orders. While other supers have started to deliver, they are still not comparable to the two mainliners in terms of accessibility as their delivery areas are limited.
New Buying Patterns
Meanwhile, the 'buying patterns' of the urban consumer is changing. With so many online companies getting recommendations on social media, the consumer is adapting and one could even say, rediscovering what they were once used to i.e. variety and choice at the right price. The urban dweller who was used to buying what they wanted at any superstore of their choice, was at first far from happy at being limited to a basket of essentials which was more or less forced upon them. That has now changed, with anything from essentials, luxury body and hair products, gourmet food, exotic chocolates, cheeses, and specialty cooking products becoming available from several suppliers who are just a call or 'WhatsApp' message away, promising either the same day or next day delivery.
Seafood, beef, Mutton, processed foods, desserts, everything is available and now with the online consumer watch becoming active, can be bought at reasonable prices.
With all this becoming a fact of our changing lifestyles, most people are not merely settling for home deliveries but even starting to enjoy it. Although there seems to be no end in sight to the lockdown, it is yet to be seen if the current purchasing patterns will continue, with a good deal available to all.
Dilki Wijesuriya
(Cover picture - Designed by benzoix / Freepik)