"Starry, starry night
Paint your palette blue and gray
Look out on a summer's day
With eyes that know the darkness in my soul" - Don McLean
The pandemic is a good time to paint, like Van Gogh. And that's what they did... the students of Shayamala's School of Arts, during a time when the world itself was painted all blue and grey. Dressed in masks, they toiled one July afternoon, the world considered insane. It may have seemed like the worst of times but for these art students it probably was the best of times, to paint impressions of a starry starry night. Head of the art school Shyamala Pinto Jayawardena says finding that silver lining in any dark cloud is the most important thing, and for the artist in her, it has been a lifelong quest.
Why Van Gogh?
When It comes to finding the silver lining in a dark cloud, none other comes to mind than Vincent Van Gogh, says Shyamala. "Although he is revered now, in his lifetime Van Gogh battled with poverty, ill health and schizophrenia. But he poured out his frustration, depression and what the world called insanity, onto canvas after canvas, wielding his brush in bright, dramatic strokes, probably as an outlet to escape his dark reality. His pain, the dark passion, is what gives his work its authenticity. He created something beautiful out of the horrible situation he was in."
That trait in the Dutch artist was what Shyamala wanted her young artists to understand and emulate. "Because they too were stuck in a box, with the isolation imposed by our changed circumstances. They too were frustrated because life had become monotonous with every familiar activity including studies coming to a halt. So I wanted them to feel Vincent Van Gogh by recreating his art. That way they too could make something good out of a bad situation, even if the situation does not change."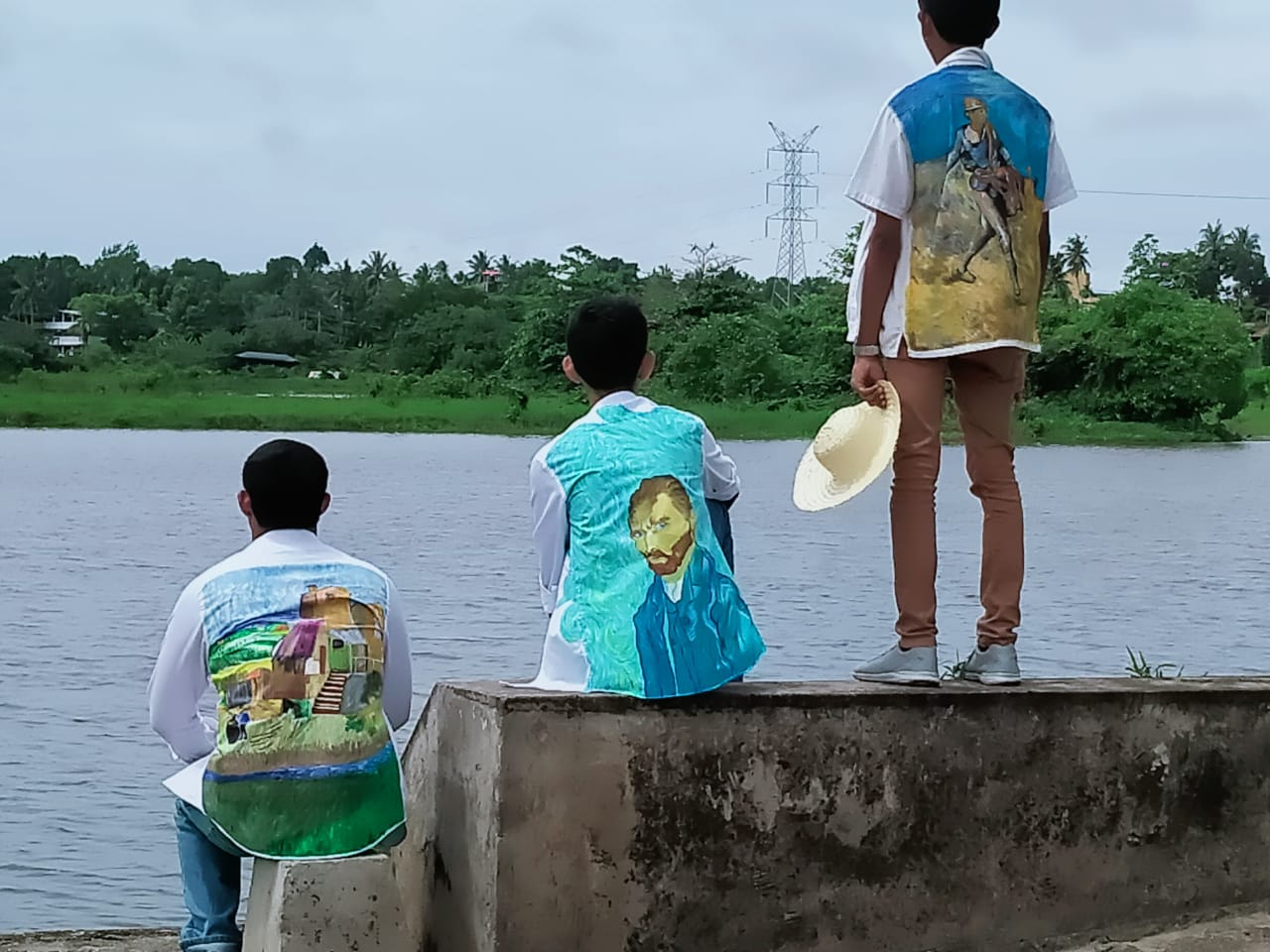 How did it go?
"We began with 5x5 squares where stunning illustrations of Van Gogh's work were done with very little resources, because getting stuff was difficult during lockdown times. The work that started on squares gradually became a lot bigger, morphing into a breathtaking painting on a wall. The students painted on T-shirts, jackets reproducing art inspired by the Great Master." She says the idea was to celebrate a Van Gogh week, where the students' work would be showcased to the public, but it had to be postponed indefinitely because of the second wave of the pandemic intruding. "Unfortunately, the Van Gogh week is yet to come, but kicking it off was absolutely fabulous," says Shyamala.
Understanding Van Gogh's genius
Of the many famed artists, she chose Van Gogh for her students to be inspired by because it was in the nature of the artist to paint the ethos of life — and that too never through the same painting. "Each piece is unique and each brush stroke tells a different story. His paintings tell their own tales, they are so alike yet so different. Just like Don Mclean sung in his song by the title 'Starry Starry night,' one of Van Gogh's more acclaimed paintings. The lyrics go, Now I understand what you tried to say to me, and how you suffered for your sanity and how you tried to set them free. It is clear the painter expressed different things in the similarity of his life situations. If someone tells me he painted wheat fields all the time, I will tell you it was not the same field," says Shyamala.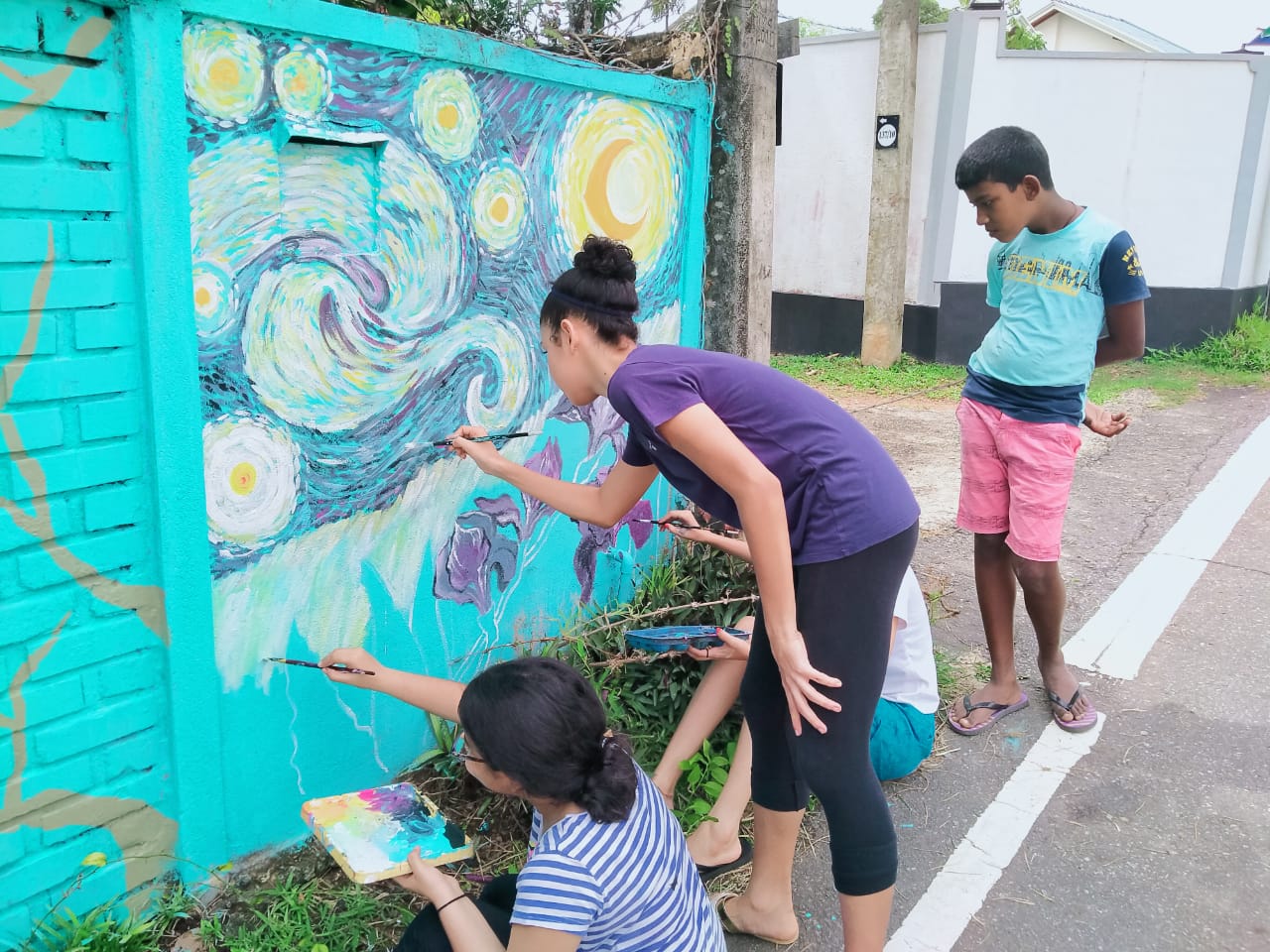 Covid challenges
Because art is such a visual subject and teaching it requires hands on instruction the odds were not in favor for Shyamala and her students. She says from technical difficulties to lagging inspiration; the hurdles faced are many and ongoing. "The whole process required quick growth on both sides — mine and the students. I realised that what I knew, the way I had learnt and the way I was teaching had no relevance at all, under the circumstances. I found myself in deep waters, requiring a quick switch that was near impossible, but there was no choice, I had to reinvent the wheel." So they switched to online learning and she says the difficulties are immense but the school goes on.
She does not see a light at the end of the tunnel yet, and does not think the COVID restrictions will end any time soon just like it did not for Vincent Van Gogh. But just as the Great Master did produce his best art towards the latter stages of his life, Syamala believes all is not lost for her and her band of young artists. "We will take our cue from Van Gogh and pour out our frustration into our art. Some are kids just learning to wield a brush, while some are doing Cambridge and edexcel O Level and A Level art. I am teaching all of them to see beauty in these difficult times. And I am sure some great art will come out of it."