At 106 years of age, Havelocks is one of Colombo's older rugby clubs, and has over the years earned itself quite a reputation for the field game. But this last year has taken its toll on the club, because this very popular contact sport has become a 'no no' in the name of health and safety.
Family club
The current president of Havelocks is making every effort to keep the club going despite the lack of play. He has resorted to making the best use of their newly revamped clubhouse by bringing members, their families and guests together for social engagements especially on the weekends. Although 'Havies' was originally a family club, during some part of its history it became male dominated, mostly overtaken by wild ruggerites and their enthusiastic fans. But in the past 10 years or so, that has changed, and the club is getting back to its original status as a family oriented place.
Open air spaces
With COVID-19 regulations dictating open air spaces as safer for social engagement, the airy club space that flows on to a well-kept garden overlooking the grounds has become the ideal place for club members and their families to interact with friends and enjoy some great old fashioned club food accompanied by a band playing 70's, 80's music. And they do this with relative peace of mind because the club leadership ensures that pandemic safety regulations are followed.
Afternoon at Havies
It is safe to say that the Havies are making the best of a bad situation while they wait for things to settle down so they can get back to the game. Thusitha Peiris, President of the Havies Club says, "We're all waiting for clearance from the health authorities and the Ministry of sports but in the meantime the committee and I are responsible for the club's survival during this pandemic period. So we came up with the idea to make every last Sunday of the month an 'Afternoon at Havelock's,' with good local food safely cooked and a band playing a mix of popular oldies and new songs. It is a very successful event not only in terms of keeping the club and its staff motivated but the members and families have a lot of fun relaxing with their families and guests and that's good to see. We plan to continue doing this because rugby will take a little more time to come through."
Family traditions
As the Club revisits their roots to continue family tradition, they are also leaving a legacy to for future years. Almost everyone that enters the club house leaves with some laughter and a sense of belonging. No doubt many memories are made within its walls and traditions passed down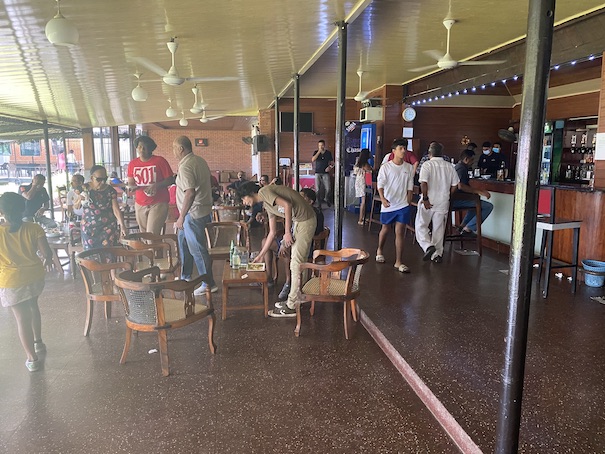 from one generation to the next continue. The familiar ambience may be something that members and visitors alike look forward to every time.

Yellow rice
Speaking of last Sunday's get together, Social Secretary of the club, Dominic Alles says, "we had a typical Sri Lankan 'Havies' style yellow rice, spicy potatoes tempered, batu moju, some pickles and three meats, chicken, prawn and our signature Sri Lankan pork curry.
Finest rugby players
However, while the entertainment factor is something to look forward to especially during these difficult times, Havies is not just about that alone. Having produced many of the finest rugby players in the country, it is a club that holds opportunity for talented ruggerites with a passion for the game. A former ruggerrite himself who captained Havelocks in 1992, the president of the club says the club holds a chance for everyone immaterial of age or background. "At Havies there is equal opportunity for everyone. We are not affiliated to any school, we don't count background, we are only looking for players with passion for the game because they are the future of this club."
By Tasha Devotta